Pearson Global ELT / Schools
At Pearson, we are committed to fulfilling the needs of teachers and learners in classrooms around the world. Our aim is to provide you with a wide choice of teaching and learning materials that meet your needs as an educator and help your students to become successful learners of English language.
We have always been the leader in ELT publishing with our unique courses specially designed for local curriculum. We do understand that you may sometimes need to look for additional materials as supplements. Surf our websites below to explore more of our global ELT / School Learning Resources.
If you are interested in any of our global ELT resources and services, our sales team is most pleased to discuss with you in further detail.
Words and Pictures: Fun with Phonics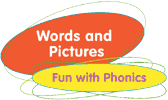 Use the popular BBC Words and Pictures programmes to help you teach synthetic phonics.
Pearson English Kids Readers
The Pearson English Kids Readers consisted of 6 levels with over 50 titles.