November 1, 2015 in Beijing, Wall Street English (WSE), the leading adult English training provider, has unveiled the first of its new-design learning centers globally in Beijing's Solana Shopping Mall. The new center is designed to be "more student-centered, more digital and more interactive and supportive of communal learning". It adopts an open and social layout in contrast to the divided functional areas in old learning centers in an effort to make learning more appealing and effective. After Beijing, more WSE centers will be upgraded to the new design and open in Guangzhou Shanghai and Shenzhen.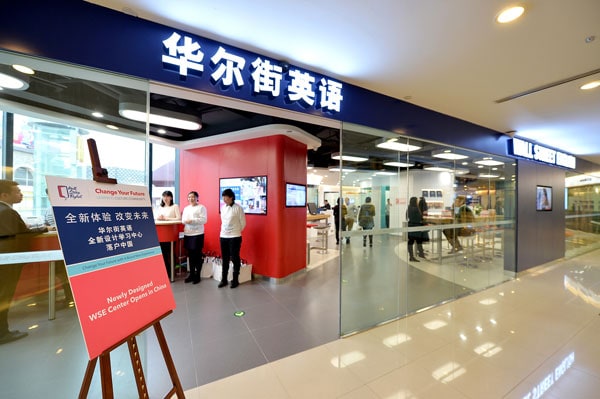 Tim Russ, National Operations Director of WSE China, said WSE received a 100 million RMB investment from Pearson in 2013 to implement the "World-Class Customer Experience Plan", which includes upgraded online English courses and the opening of the new centers. The new center was designed by IDEO, the designer of the world's first laptop and the first mouse for Apple, and constructed by Canon Design.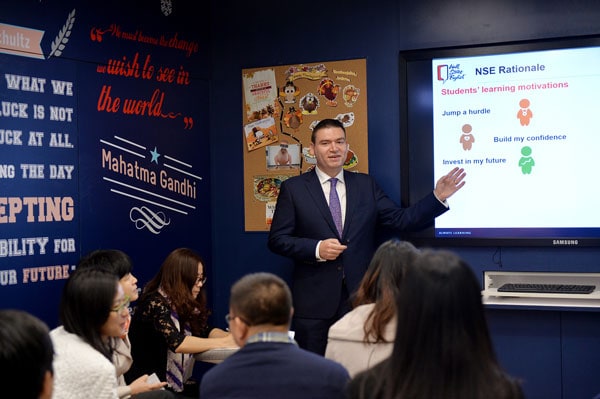 Design breaks communicative barriers, making learning easier

WSE Center Development Director Evert van Steenbergen said the new design had three highlights. First, it no longer separates centers into isolated functional areas. On the contrary, teacher offices, private-study area and public areas are inter-connected and even multifunctional, catering to students' actual demands and being more space-efficient. Despite this openness, students enjoy a tranquil learning environment in the centers, thanks to the sound-proof walls and floors made of imported acoustic boards. The rows of computer cabinets have been turned into open and independent "islands", making it easy for students to seek help from teachers any time they need it.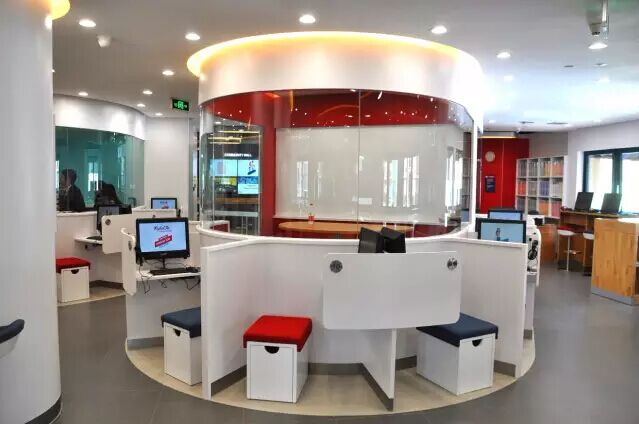 Another highlight is increased interactivity between students and teachers. The design of old centers is similar to an office environment, while the new center looks like a relaxed and comfortable social location. The front desk has been replaced by an open reception area, freeing the receptionists from computers and telephones to serve waiting clients while making it possible for center staff to back up each other in line with fluctuations in demand from waiting students. Encounter rooms are no longer the traditional sit-around style and use high chairs to ensure teachers' and students' lines of sight are on the same level and create the relaxed feeling of being in a bar. All desks have been removed from the social club as a way of breaking down communication barriers and facilitating conversation between students and teachers.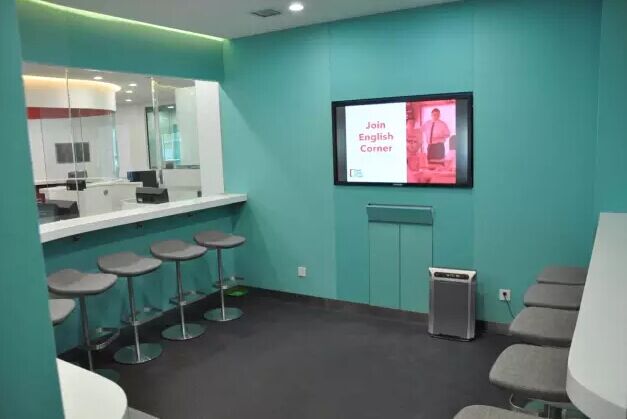 Last but not least are the upgraded in-center digital facilities. LED screens are hung on the walls in the public area, displaying international news and center schedules. Students can not only book their encounters on WSE's mobile App, but also finish homework online. Evert van Steenbergen said WSE was dedicated to improving learning efficacy by pushing forward the development of digital applications and building an all-digital learning center in the future.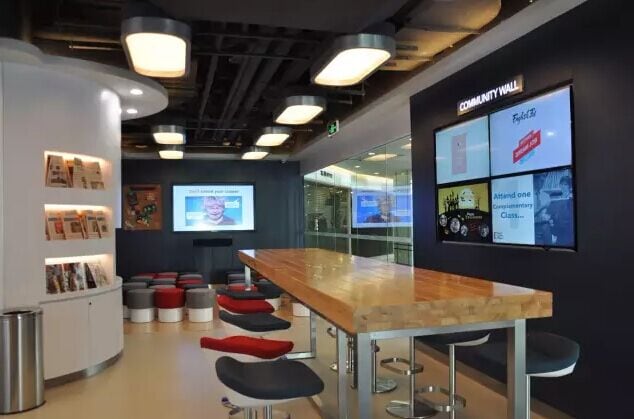 Well-researched design and construction by world-leading architectural firms

WSE assigned IDEO, one of the world's leading design consultancies, to design the new center in 2013 as a crucial part of the "World-Class Consumer Experience Plan", taking into consideration student's needs, cutting-edge technologies and WSE's business operation practice. IDEO is the designer of the first laptop in the world and the first mouse for Apple. IDEO designers talked to WSE students and tracked their behaviors in centers before they came up with the new design concepts, which perfectly match students' needs and preferences. Canon Design, a top global architectural firm, then turned the design into reality. The exacting design process fully represents the importance WSE attaches to the new centers in terms of improving student experience.
First of all, IDEO designers visited WSE students at home to establish an understanding of their families, daily lives etc. and figure out the driving forces behind their English learning. Meanwhile, they spent a long time observing students' movement paths in centers, including where they prefer to sit, how they go about asking study advisors for help, when the center is most crowded, and how they communicate with each other.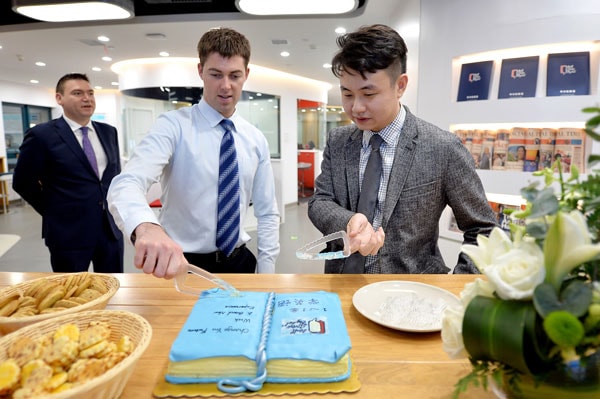 Then, designers set up a new set of service standards and spatial concepts to better fit the students' behavior patterns. To test their concepts, designers constructed a preliminary site of 130m2 in Shanghai and invited WSE students and employees to test it and provide comment. Exploring similar approaches, designers constantly adjusted, optimized and verified their design for more than a month through repeated attempts, rejections and approvals, in an effort to accurately capture customers' preferences and demands.

After IDEO's preliminary designs were accepted, further detailed construction drawings were assigned to another American architectural firm, Canon Design, which has rich experience in the design of education facilities and institutes. After more than a year of design and construction, the first new design learning center is now open in Beijing.
According to Tim Russ, the primary purpose of new design learning center is to better improve WSE customer experience by upgrading the hardware of learning centers. In addition, WSE has invested heavily in software development for teaching models and tools. The new learning system and curriculum will launch soon.