Longman ICT Exam Series
Mark your IDEAL HKDSE Exam Result
HKDSE ICT Mock Papers (Paper 1) — for 2016 HKDSE Exam & after
Contain 6 sets of Mock Papers for both Section A and Section B of Paper 1
Questions are written according to the latest HKDSE Exam format (effective from 2016 onwards)
Exam Strategy and marking scheme are provided for enhancing your exam skills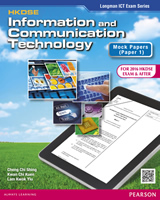 HKDSE Information and Communication Technology - Multiple-Choice Questions - for 2016 HKDSE Exam & After

The book contains abundant multiple-choice questions, which are categorized by main concepts of each chapter in Longman NSS ICT Compulsory textbooks.
Each chapter contains Miscellaneous Questions for consolidation of concepts.
A separate booklet of Answer Key consists of detailed explanations of more difficult questions.
Most of the spreadsheet functions listed by HKEAA for 2016 HKDSE Exam are covered.
The formats and Chinese wording of programming control structures are tuned following the style of actual Exam papers.
Questions are touched with latest ICT policies or propositions.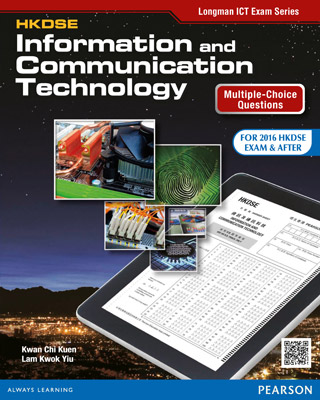 HKDSE ICT Mock Papers (Paper 2C)
Contain 6 sets of Mock Papers
Questions are written according to the latest HKDSE Exam format
Exam Strategy and marking scheme are provided for enhancing your exam skills