An in-class instantaneous feedback system developed by professors at Harvard University
Learning Catalytics is an in-class instantaneous feedback system which enables teachers to view students' responses and performance analyses in real time. Teachers can assign in-class exercises to help students understand concepts and consolidate their knowledge. With the useful instantaneous feedback, teachers can better understand students' performance and progress. Follow-up online assessments can also be assigned after class to cater for learner diversity.
Offers various response modes
Learning Catalytics provides various response modes to suit different teaching needs:
Instructor-led synchronous mode
Teachers assign a single question each time and the whole class have to answer that question synchronously.
Self-paced mode
Teachers assign multiple questions each time and students can answer questions at their own pace.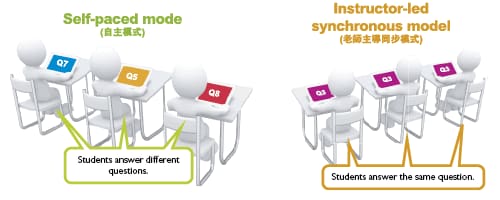 Features various question types
18 question types are offered to cater for the needs of different subjects, including multiple choice, composite sketch, highlighting, matching, image upload and word cloud. Teachers can edit or add more questions to suit school-based needs.
Extends learning
Most assessments are auto-marked and provide students with instantaneous feedback to encourage self-learning. Teachers can assign after-class assessments to students according to their performance for extended learning and consolidation purposes.
Supports multi-platforms
Learning Catalytics is compatible with tablets, smartphones and PCs. The system is supported by various platforms such as Windows, MacOS, iOS and Android.